In 2022, our team spoke about metaverse marketing at the Apartment Internet Marketing (AIM) Conference and the National Apartment Association (NAA) Apartmentalize conference. We covered a lot of background about the metaverse, including the debated definition, the technical framework that's giving rise to its popularity, where we are in the hype cycle, and why and how real estate marketers should care about it and craft campaigns in the space. If you missed the talk, we've made the deck available for download.
———
There's a lot of buzz around the metaverse, from Facebook renaming itself to Meta to the hot rise of non-fungible tokens (NFTs), the dramatic volatility of cryptocurrency, high-priced auctions over virtual real estate in Decentraland, and big brands entering the space on a nearly daily basis to establish their presence in the new, more immersive virtual world of Web 3.0. With so many celebrities, billionaires, tech moguls, household brands, and new entrants riding the wave, one thing's for sure — the metaverse is hard to ignore, even if we want to.
At Catalyst, we define the metaverse as a digital world created by an evolving, seven-layer tech stack that offers the opportunity for more immersive, interactive environments through extended reality (XR) experiences often focused on social connection. This definition includes, but is not limited to, augmented reality, virtual reality, mixed reality, cryptocurrencies, decentralized finance, NFTs, blockchain gaming, and other related innovations and trends emerging from the fact that technology is finally catching up to our sci-fi imaginations.
These crescendos of innovation are the cultural moments in which we, as marketers, can find immense value. When everyone is watching, whether they do so with the eyes of a skeptic or a fanatic, we know an audience of this size is bound to offer significant opportunity for our clients. It's our responsibility to sort signal from noise and lead our clients confidently into new spaces where they have target audience members waiting to engage with brands bold enough to position themselves on the forefront of new experiences.
So, what is the actual demographic engaging with the metaverse, what are their purchasing powers, and what are the current tangible opportunities for student, multifamily, and senior living brands that will result in actual leases? We're so glad you asked.
Demographics of Metaverse Users
The key areas of focus for real estate marketers are always age, gender, income, and local market interest. As for the audience for most conventional and student housing communities, the proverbial shoe seems to fit.
Reasons Driving Interest
According to a survey of U.S. adults on Statista, 74% of all adults are joining or considering joining the metaverse for various reasons as of December 2021. The reasons given were as follows:
41% to experience things they can't in a physical reality
40% want to communicate with others in the space
38% believe it could be a positive way to unite people
28% want to escape their physical surroundings
28% foresee educational opportunities
23% want to become a different person than their real self
Corporate Expectations of Metaverse Adoption
According to a March 2022 Statista survey of companies from selected countries that have already invested in the metaverse, almost seven in 10 of responding businesses stated they thought the metaverse was going to boom in the next five years. However, 2.9% of respondents were more cautious and estimated that it was going to take more than 10 years for this technology to take off.
Gartner Hype Cycle
Each year, Gartner publishes their Hype Cycle report and graphs out the development of emerging tech across the five main stages of innovation and adoption: Innovation Trigger, Peak of Inflated Expectations, Trough of Disillusionment, Slope of Enlightenment, and Plateau of Productivity. According to the 2021 Hype Cycle for Emerging Technologies, nearly every technology that is metaverse-related is on the front end of this cycle, from Innovation Trigger to Peak of Inflated Expectations, with NFTs being near the apex of that peak.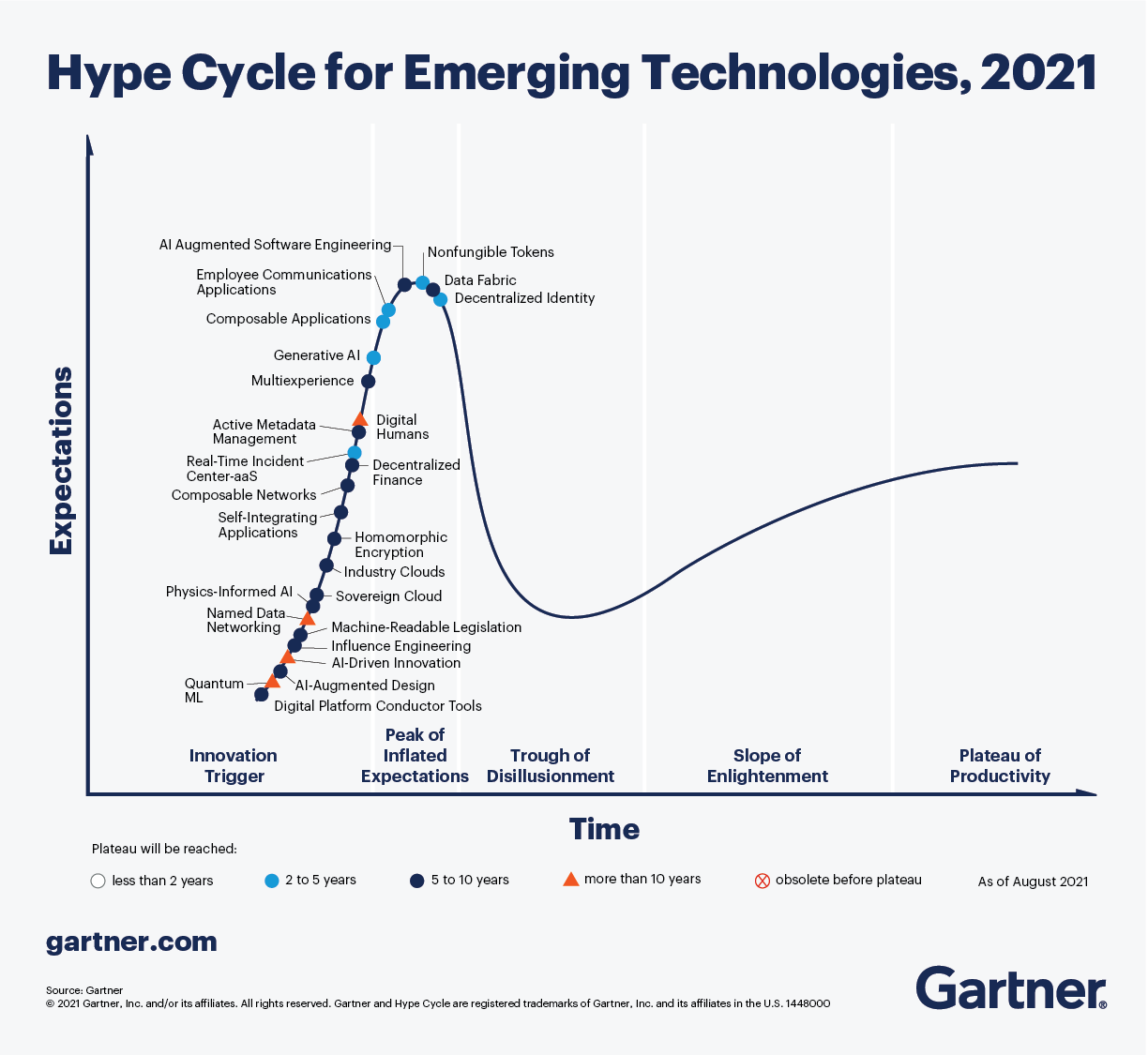 Metaverse Marketing Opportunities for Apartment Communities
What all these statistics mean for the apartment marketing industry is that we are early, and the opportunity is real. We can innovate and offer unprecedented brand presence and resident experiences.
The metaverse in all of its seven-layered dimensions offers us specific opportunities for:
Brand presence and experiences
Lead generation
Brand loyalty
It's long been understood that connection fosters loyalty and profit. According to findings by Sprout Social, "connection is the new currency," and investing in relationships with consumers offers a high-yield return. When customers feel connected to brands, more than half of consumers (57%) will increase their spending with that brand, and 76% will buy from them instead of from a competitor. For those of us in real estate marketing, that means investing in the metaverse connection will attract new renters by building affinity online, resulting in renewals and higher returning resident ratios, and creating more opportunity for rental rate increases as likelihood of increasing spend is stronger.
Metaverse Marketing Campaign Examples
We've been successfully experimenting with marketing in the metaverse since November 2021, with two separate large-scale, portfolio-wide campaigns related to cryptocurrency and NFTs. While these campaigns have not yet involved virtual real estate or deep-metaverse creations, they served as opportunities to develop a base of knowledge and dialogue within our teams and communities about the space, and make sure everyone is on the same functional level to ensure we have a foundation for even more creative future endeavors.
Our award-winning Cyber Monday campaign capitalized on the expanding popularity — and recent relevancy — of cryptocurrency and the metaverse to create a futuristic theme with a grand prize of $1,000 given away in bitcoin or ethereum. While hype was building around the Cyber Monday campaign, we launched the second half of the weekend's initiative — a focus on "Doing Good in the Digital Age." For every lease signed or renewed from November 26–29, $2 in cryptocurrency would be added to a collective donation fund. Then, on Giving Tuesday (November 30), two winners were given the opportunity to donate that cryptocurrency to the charity of their choice, using The Giving Block. Possible charity options included Feeding America, the American Cancer Society, and more. The campaign led to 213 new leases and 224 renewals across our client portfolio, and outpaced prior year marketing key performance indicators (KPIs).
For our large-scale campaign in spring 2022, we took the opportunity to celebrate the emergence of this generation being the first to innovate and experience NFTs with a "geNFT" theme for the campaign. Knowing this would likely be an introduction to our audience still learning about NFTs, we gave a winner the opportunity to create their own NFT alongside one of our designers or select $1,000 worth of bitcoin or ethereum. Additionally, anyone who took a tour during the campaign was entered to win an Oculus Quest 2 headset. The campaign garnered a 15% increase in leads compared to the same time the prior year.
Both of these campaigns yielded equal to or above average leases when comparing year-over-year results. They also did not cost anything beyond the normally budgeted amount for these campaigns. While just being starting points to metaverse marketing, these campaigns are also proof that you can have some fun, get out there in the metaverse, and make wise use of those precious marketing dollars along the way to drive results.
Your residents are out there. Meet us in the metaverse?