At Catalyst, we place a high value on transparency because we know it is the key to trust. In my last letter, I shared that we have increased our efforts in this area through the creation of live dashboards that will provide our client partners with real-time performance visibility on digital campaigns.
Introducing… dataLYST™.
The goal of these dashboards is three-fold:
Data Transparency — Increasing transparency and trust with our partners — each dashboard is linked directly to the data source (Google, Facebook, etc.). The results you see are unprocessed, unmodified, and left exactly as they are.
Financial Performance — Allowing our partners to see the real-time performance of every marketing dollar in real-time.
Strategic Partnerships — Elevating the conversation from reporting the facts on stale, prior month PDF reports, to strategic discussion based upon readily available performance everyone can see anytime. Conversations will become true collaborative partnership moments driving better results your way.
dataLYST™
dataLYST dashboards showcase the performance KPI's and benchmarks for SEM, SMM, SEO, and Google Analytics.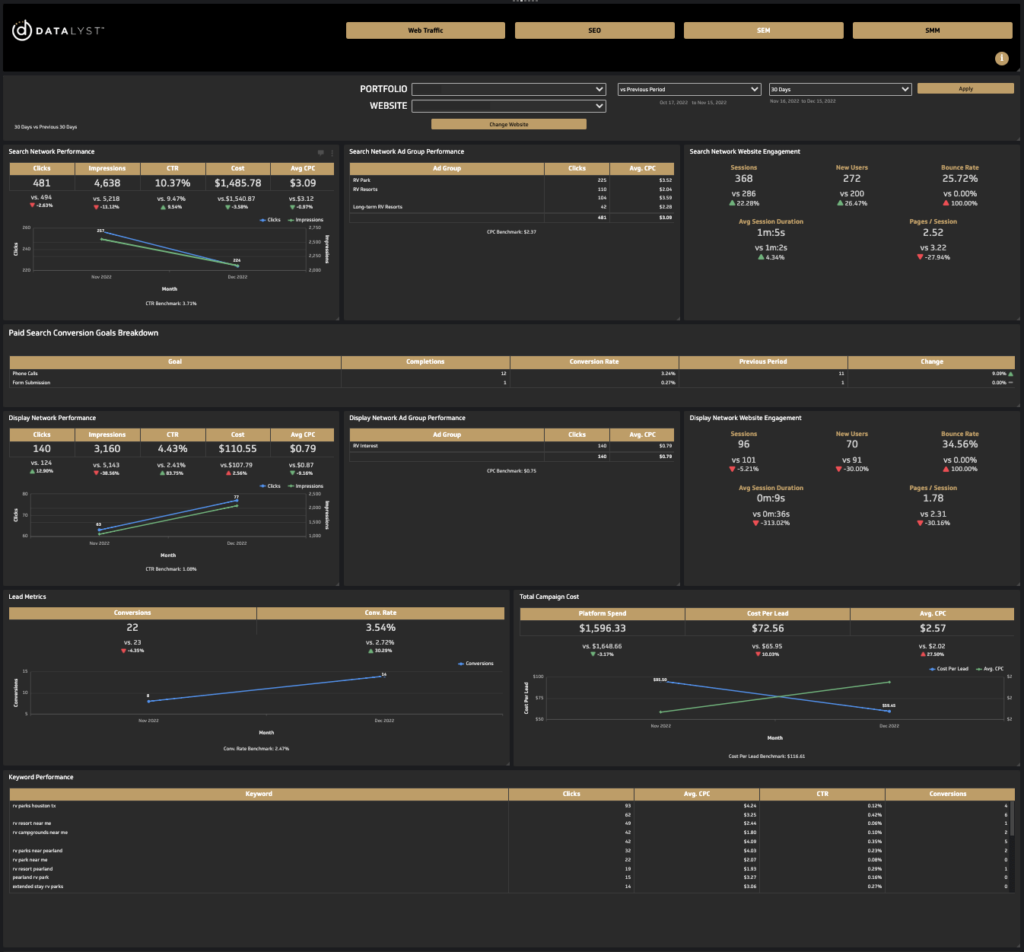 SEM
Our custom Google Ads dashboard provides visibility into ad spend performance in near real-time, with an in-depth overview of each ad's performance pulled straight from Google's data feed. Simply select the date range you want to view and see all of your data, beautifully modeled to quickly give you all of the information and insights you need. Metrics include:
Ad Clicks
Ad Impressions
Click-Through Rates
Phone Calls
Lead Conversions
Conversion Rates
Cost Per Lead
Cost Per Click
Ad Group Performance
Top Keywords and Performance
Compare Performance to Previous Periods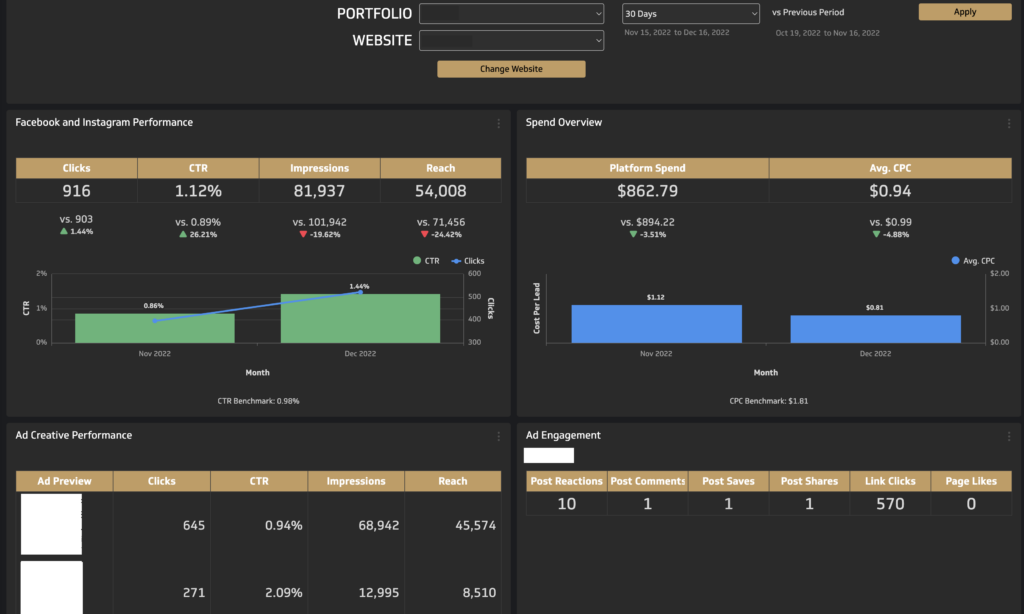 SMM
Our custom Facebook and Instagram Ads dashboards allow you to see all of your ads and each one's performance at a glance. Just log in and select your date range to see all of the important insights you need to know exactly where your money is going. Metrics include:
Ad Clicks
Ad Impressions and People Reached
Click-Through Rates
Lead Conversions
Conversion Rates
Cost Per Lead
Cost Per Click
Top Performing Campaigns Breakdown
Review Your Ad Visuals and Their Performance
Compare Performance to Previous Periods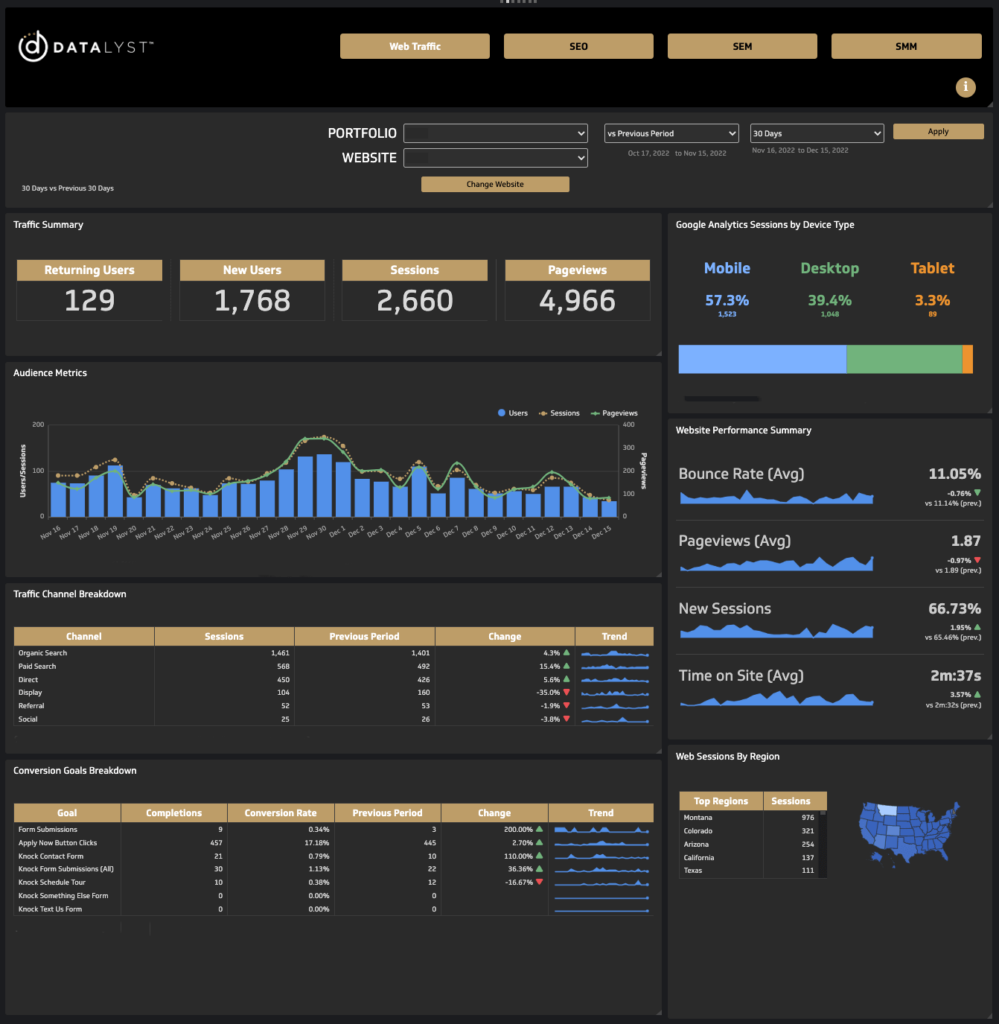 Google Analytics
With our Google Analytics dashboard, you can easily see a comprehensive breakdown of your website performance. We've designed this dashboard to show you everything that matters on a single screen, so you can quickly get all the info you need for the date range of your choosing. Metrics include:
User Sessions
Unique Visits
Page Views
Bounce Rates
Average Time on Site
Desktop, Mobile, and Tablet Breakdown
Traffic Channel Breakdown
Conversion Goal Performance
Geographic Breakdown
Compare Performance to Previous Period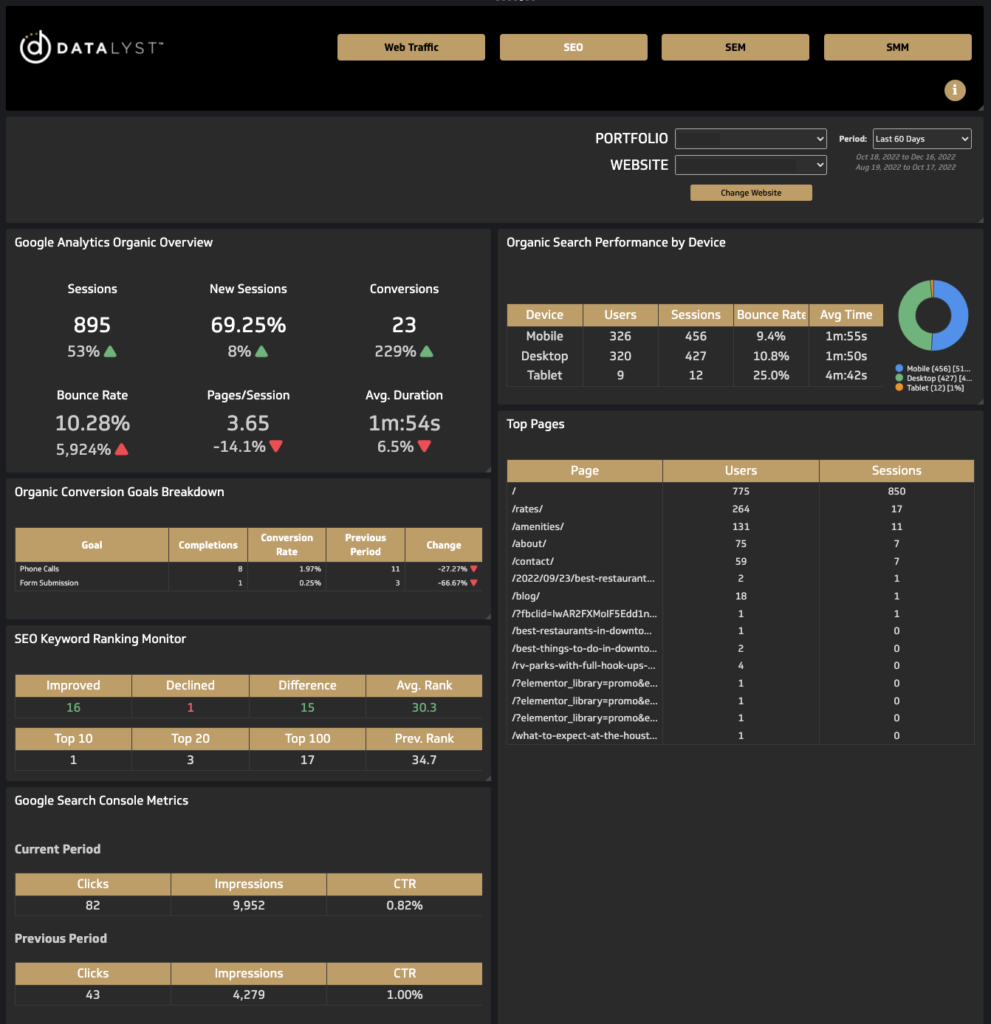 SEO
Our custom SEO dashboard pulls together the most important data from several sources to give you clear organic performance insights in one comprehensive view. Simply log in, select the date range, and see how search users are discovering and using your website. Metrics include:
Organic User Sessions
Organic Unique Visits
Organic Conversions
Organic Traffic Bounce Rate
Organic Traffic Pages per Session
Organic Traffic Average Time on Site
Organic Traffic Metrics by Device
Organic Conversion Goal Performance
Organic Traffic Top Pages Visited
Aggregate SEO Keyword Ranking Changes
Google Search Console Organic Metrics
Average Keyword Ranking vs Competitors Comparison
Exceptions
dataLYST™ dashboards are a complementary element of your experience with Catalyst as a strategic partner. Some exceptions may apply, such as where your website is hosted, custom metrics or reports you have requested, or other non-standard requirements for your data and reporting. We will do everything we can to accommodate requests for custom data and reporting, and in some cases, additional fees may apply.
Integrity and Data Transparency go hand in hand.
Integrity is one of Catalyst's core values, and we believe data transparency goes hand in hand with this value. We are inspired by the trust our clients place in us. It remains our mission to continually honor that trust by giving you new reasons to be certain our partnership is the smartest marketing decision you've ever made.