Can you believe it's already 2023? Neither can we. As a result of our rapidly growing social media service, our team successfully launched more than 2,800 social posts in the past 365 days. And as we round the corner into a new year, we're just getting started.
Our Data-Driven Approach
At Catalyst, real estate marketing is our specialty — and we've developed a powerhouse social media service that can help your community (or business) shine on social media platforms. If you've ever struggled with ways to make your brand stand out compared to the competition, we've got two answers for you: industry benchmarks and best practices.
Our data-driven approach allows the profiles we manage to  stack up against the industry in more ways than one. From total impressions to published posts, follower count, and more — the results speak for themselves. Check out how our work stacked up against the real estate industry as a whole in 2022.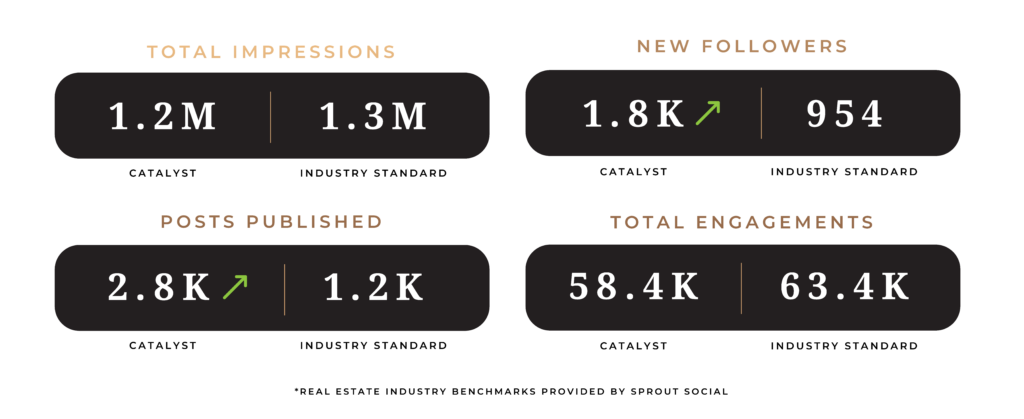 Breaking Down the Benchmarks
When looking at the data, it's important to remember what each of these metrics mean. Total impressions describes the amount of times your content has come across users' screens (a very important benchmark when it comes to brand awareness). Posts published are exactly what they sound like: – the total images or videos  you've deployed to your social channels. The more you post, the more you make yourself available to your audience for engagement and building connections. When you receive new followers, you've successfully caught the loyalty of users who are paying attention to and finding value from the content you're putting out. Finally, we look at  total engagements — any like, comment, share, tag, and more on a post you've published counts as one engagement. From a strategic standpoint, engagements are crucial to creating a successful social media presence. This is how your community, business, or brand interacts with its audience. Depending on the type of content you create, your interactions might be informational, inspirational, humorous, and more. The goal is to build a community that holds a conversation and finds value intrinsically in the interaction.
Tips to Take Into 2023
As you begin planning your social content for the new year, we also wanted to share some helpful ways you can achieve (or exceed) industry benchmarks. Here are a few best practices to help you get started.
Plan Content Ahead of Time
Plan out a calendar of post ideas at least one month ahead of time. If it's possible, forecast as many as 2–3 months ahead. This allows you to draft captions, shoot photos or video, and work with other departments as needed to make your content come to life.
Don't Let Fear Drive Your Content
Don't be afraid to test new content ideas on social media. While it's important to pay attention to trends and stay consistent, it's equally important to differentiate your brand from the competition. Test things out, pay attention to your metrics, and iterate based on those results.
From a business perspective, we can't stress this enough: Celebrate your company's wins, whether individual or team milestones. This provides a level of transparency and trust with your audience, and gives a welcome insight into what makes your culture unique.
You read that right! Don't be afraid to share a laugh with your audience. When brands use humor appropriately on their social media platforms, their audience will begin to associate their brand voice with positive feelings. At Catalyst, that's what we call Good Mood Marketing™. 
Social media plays a huge role in  digital marketing and brand voice — and if you're looking to get started, our team is here to help. Until then, bookmark this blog post to set yourself up with the building blocks and benchmarks you need to start on your content creation journey. Cheers!