Local search is crucial for apartment complexes.
When it comes to online marketing for apartments, local search is arguably one of the most important ways to engage your customers. Keyword searches for apartments will almost always display local results, and according to a recent report from Apartments.com and Google, 29% of users go to search engines first to find an apartment. Local results can be the first — and perhaps the last — impression of your apartments before a customer makes a decision.
Local search can affect your online visibility, your reputation, and ultimately whether or not customers contact your business.
What is local search?
Local search is the way that Google displays your business' information on the search engine results page when someone searches for an apartment in your area. Local results can feature your location, phone number, hours, photos, and, most importantly, reviews.
This means that a customer might never land on your website before they decide whether your business is worth giving a call.
Let's put it another way: Local search is like a friend trying to set you up on a date.
They give you all of the basics — their name, some photos, and why the person is totally your type. Once you ask some other friends for their opinions, however, you start hearing some negative traits. You never actually met the person, and they might be perfect, but it doesn't matter because you've already made your decision.
Now let's say that friend tries to set you up on 20 dates at once.
You compare everyone's opinions side by side, and easily pick the number one choice. This is local search.
The new local search results for apartments.
Google recently made some extreme changes to the way that local businesses appear in the search results. For many apartments, this can have a dramatic effect on how customers find their information.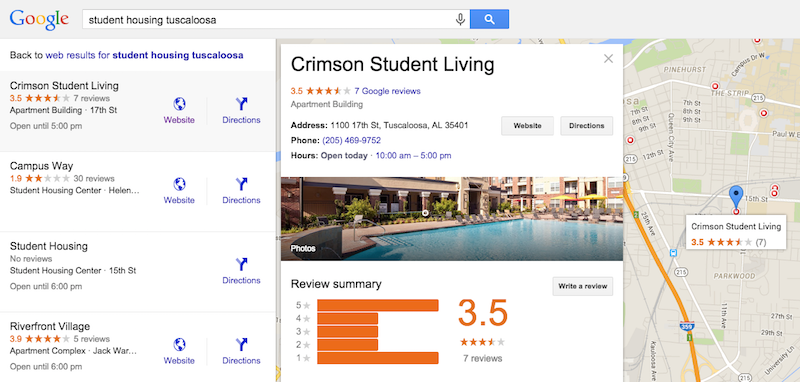 Local results now feature only three businesses on the organic search results page (down from seven before). Clicking in this box directs the user to a separate local results page with 20 different apartment complexes — a completely new feature.
The video below demonstrates a local search for "student housing in Austin, TX".
Once a user is in the local listings page, Google shows a side-by-side comparison of reviews, location, and hours of operation, with links for the website and directions. Clicking these listings reveals a knowledge graph with all of the property's information and reviews.
These new changes dramatically enhance the user experience in search and can cause increased engagement for apartments that have a good online presence.
How apartments can benefit from the new local search.
Here are some simple steps that apartment managers can take to improve their online local presence:
1. Verify and maintain a Google+ local business page.
A Google+ local business page is key to managing your online local search information. This is the information that Google will display in the knowledge graph after someone clicks on your business.
Having a verified Google+ page also ensures that your business will show up in the local results and in Google maps. If you don't know how to set up a Google+ page, check out our step-by-step process to guide you through it.
2. Collect good customer reviews.
With the competitive nature of Google's local results, standing out is critical. A 5-star review is the best way to differentiate your apartments from the rest. If you know residents who have had good experiences or if someone is renewing their lease, ask them for a review.
If you're having trouble getting the reviews that you want, check out these four tips to get more positive reviews.
3. Optimize your website for local keywords.
There are some simple adjustments to your website that may very well help you gain some traction in the local search results. Add your city and state to the copy on your site. If you can, try to use it in titles and header tags.
Try to also use more specific location terms like "downtown austin" or "the warehouse district". This will help Google narrow down your location and know that you are an active and relevant local business in that area.
If you feel like your business could benefit from local search, our digital marketing team has specific local SEO expertise in getting apartments the results they want. Check out our digital marketing services to see what we can do for you.