Services: Campaign, SEO, SEM, Social Media, Email, Reputation
Location: Jacksonville, Florida
University Affiliation: University of North Florida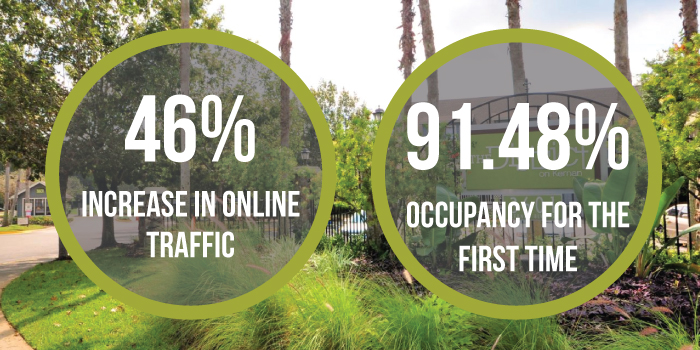 The Challenge
The District on Kernan serves students in the Jacksonville, Florida area, specifically those attending the University of North Florida. The market area is small and with the exception of one competing development, students lease individual homes in the area. Due to problems driving traffic to the property, the property was not able to exceed 81.32% occupancy. When engaged, Catalyst was asked to help The District on Kernan achieve 90% occupancy.
The Solution
In an attempt to drive students to the property, Catalyst developed a blended digital media marketing campaign, which included SEO, online advertising, social media marketing, email marketing, and reputation management. By controlling these various outlets, Catalyst was able to develop a consistent voice and brand identity throughout the property's digital media outlets. During the launch of this blended media campaign from February through July of 2012, there was a noticeable increase in traffic. Previously, the property was focusing pay-per-click efforts on the Jacksonville market, rather than the state of Florida. As PPC was launched throughout the state, in conjunction with Facebook Ads launched in April and May, traffic continued to increase.
The Results
Throughout the blended digital media campaign, the client experienced an increase in online traffic of 46%. By combining the property's traditional marketing strategy with Catalyst's blended campaign to increase online traffic, the property exceeded its budgeted occupancy and achieved 91.48% occupancy for the first time.
Find Out What We Can Do For You!