Services: Messaging, Reputation Management, SEO, SEM, Traditional Advertising
Location: Indianapolis, Indiana
University Affiliation: Indiana University-Purdue University Indianapolis (IUPUI)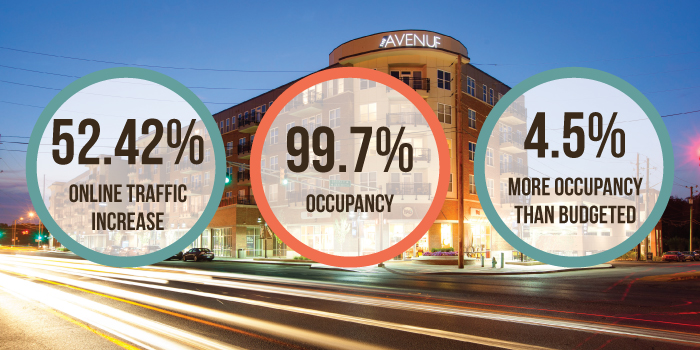 The Challenge
With a negative sentiment throughout the Indiana University-Purdue University Indianapolis (IUPUI) market in Indianapolis, Indiana, The Avenue faced challenges achieving leasing occupancy. Prospects in the area perceived the modern property to be outside of their budget based on marketing materials viewed both traditionally and online. Subsequently, this negative perception resulted in significant decreases in online traffic to the property's website and physical traffic to the leasing office.
The Solution
Upon an assessment of the Indianapolis student housing market and the student population at IUPUI, Catalyst was able to ascertain that The Avenue offered students a living environment conducive to focusing on their studies while providing an urban lifestyle. While the property's rental rates were approximately 25% (average percentage position based on rates in Jan. 2014) higher than competing properties, these rates were actually within the students' budgets. In an effort to both combat the pricing perception and capture the attention of the targeted audience, digital and traditional marketing collateral ranging from SEO strategies and national pay-per-click campaigns to specialized marketing brochures and easy-to-read marketing flyers/ads were redesigned and employed an innovative tagline for the property.
The Results
The Avenue was positioned within the Indianapolis market as "A New Class of Living", which employed the new and modern feel of the property without an expensive implication. As new marketing reached students, The Avenue experienced online traffic increases of 52.42% from May to June in comparison with the prior year. As a result of the surge in online traffic, leasing staff at The Avenue were able to reach a total occupancy of 99.7% — exceeding their budgeted occupancy by 4.5%.
Find Out What We Can Do For You!