How Reputation Management and SEO Are Impacting Your Leasing Possibilities
The art of serving people and the science of search engine results are teaming up to form a power marketing couple unlike we've ever seen. For the multifamily and student housing industries, this means online review ratings and organic search engine results increasingly stand as the gatekeepers determining whether online leads will translate to leases signed.
Findings from a recent national research study conducted by J Turner Research reinforce the increasingly persuasive role reviews play in apartment shopping — the majority of residents (75 percent) look at ratings and reviews multiple times during their apartment search process. And they're not just looking at the property's ratings; they are looking at the reputation of the property management company.1
Not only do these reviews show up in search engine results pages, but Google ranks the results it serves up based in part around ratings and reviews metrics. All of this translates to the fact that most prospects won't even visit your website before determining if your community is a candidate for their consideration based on ratings and reviews.
As leaders in the housing industry, we need to get to know this power couple, the power they hold over our bottom lines, and strategize how to effectively position our communities for success at the critical touchpoint known as the search engine results page.
Understanding the technical relationship between SEO and online reputation
Google still ranks your site in part according to your website content and other traditional SEO factors, but you may have noticed that ratings on review sites are now visible in search engine results pages.
The SEO experts at Moz cite "review signals" as one of the most important factors for determining search rankings. Review signals include things such as quantity and diversity of online reviews, the volume of testimonials in reviews, the authority of third-party review sites on which reviews are posted, how positive these reviews are overall, and whether the reviews have been responded to by the business owner.2
In our industry, Google, ApartmentRatings.com, Yelp, and Facebook are high authority sites, so it's important that you engage the feedback your property is receiving in a timely manner on these sites.3 Other review sites, as shown in the image below3, are still important to pay attention to,  but they aren't viewed with as much authority by Google and won't have as much impact on search engine rankings.

In the Google search results screenshot below1, you'll notice that each of the results Google serves up for this search contain star ratings from the sources mentioned above. Off to the right is a box Google calls the knowledge graph.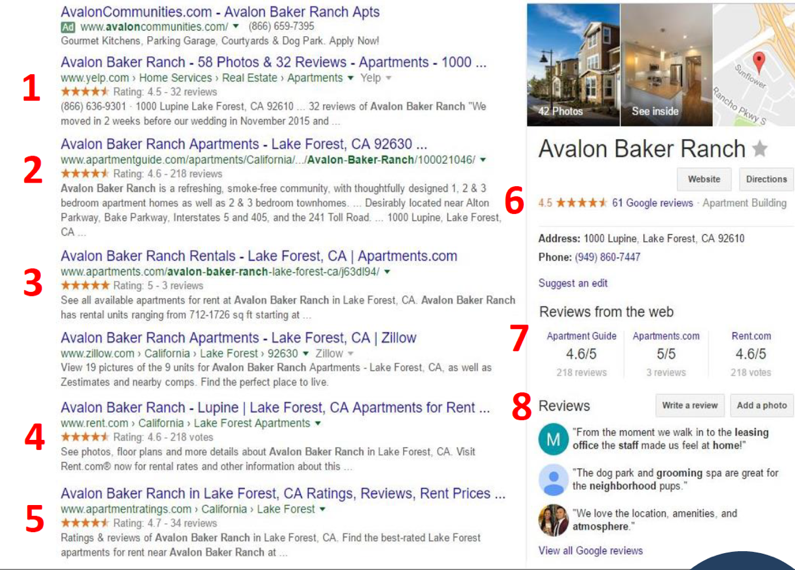 When J Turner surveyed a group of test prospects, they ranked these results according to which result had the most bearing on their decision to visit the property. The results below1 correspond to the numbers on the screenshot above, and indicate that the local pack is a highly influential factor, and the reviews from Google within that pack are the most influential. Second to that are the reviews from the web listed within the pack. Other respondents had similar behavior with other search results, sometimes citing results served up on the left side of the screen if the ratings were high in volume and positive scores.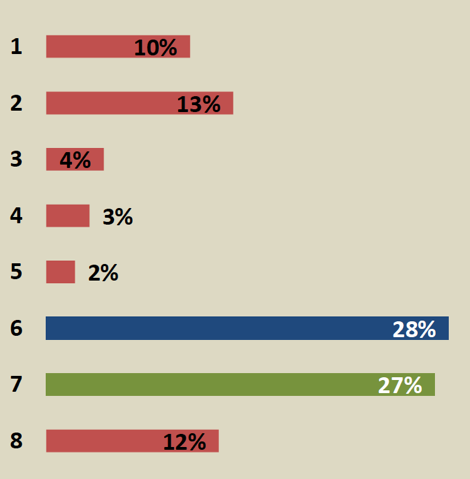 The conclusion is clear: Organic search results are the first voice for your business and create a touchpoint of mandatory success for your property in order to have a chance at converting online traffic to leases.
Reputation management best practices
So, what's a property to do? How do you compete in the listings to win traffic to your website and, ultimately, your property?
There are three primary keys to success in reputation management.
Implement local SEO tactics.
The first step is to start by claiming your business listings. According to Reputation.com, "Business listings showcase rankings and content from your great reviews, so make sure you claim them. Google makes this process easy, with a 'Claim Listing' button. Check to be sure all listings are accurate and consistent, and provide any new or missing information about your business name, address, phone number, website address, business categories and other details. You can enrich listings with photos, content and special offers. Monitor and update them regularly."4
Proactively pursue reviews
Reputation.com says, "The more reviews you have, the better. Research shows the first 10 reviews a business receives can move it from the second page of search results to the first. And 50 reviews have been proven to increase click-through rates by 266 percent".4
There are a number of ways to accumulate reviews, and doing so at a time when residents are already likely to be happy is a great way to boost your review scores. Recently, Catalyst created a year-round review solicitation campaign with a "five" theme, shown below, to subtly encourage residents to leave 5-star reviews.5 We created table tents, stickers, banners, flyers, and other deliverables for the property management company to roll out to all of their properties for permanent display at key touchpoints such as the front desk, ameniy locations, events, and after maintenance interactions.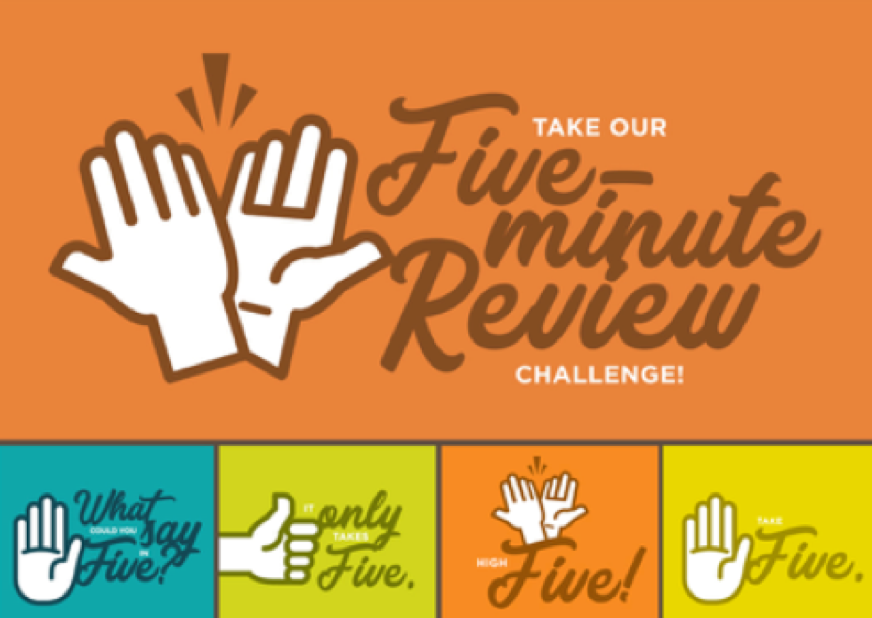 Since rolling out this campaign in March 2017, our client's Online Reputation Assessment (ORA) score skyrocketed and remained above the national average ORA score. The ORA score is a real estate-specific composite score consisting of all ratings and reviews across the relevant sources mentioned previously on a scale of 1-100. This score is established by J Turner Research.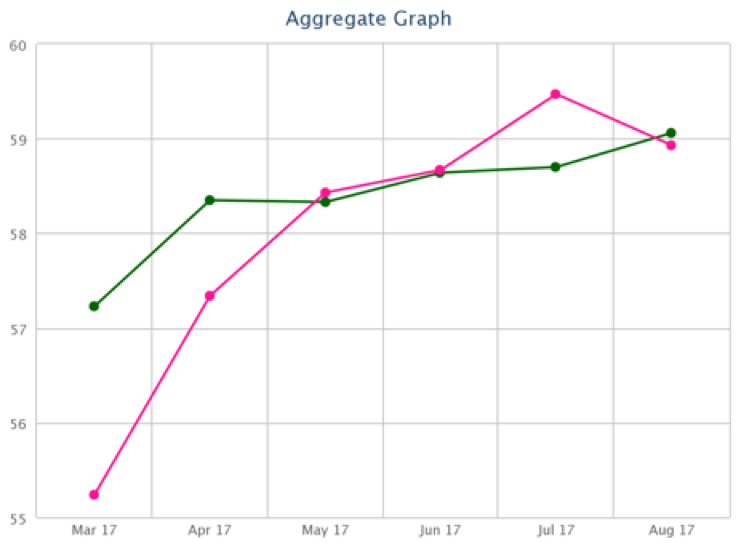 Aggregate graph from Ratings Tracker6
The key is to be proactive and remember that great customer service leads to great reviews, and this leads to new traffic from those search engine results pages. It is also important to simply ask for reviews. Many times, residents are happy to provide a review based on their positive interactions, but staff members don't ask or direct them on where to go.
Respond to reviews with the right people.
Who is your reputation management team? There is value in establishing a team around your property staff that goes beyond those at the site level. Aside from adding an objective head into the mix when the scenario of a negative review has gotten difficult to handle, the property management company holds a stake in the outcome because the ORA score for the overall company is of interest to your new prospects.
When reviews are positive, it's important to respond to them and thank them for their time and patronage. When they are neutral, it's also key to acknowledge the good and work to convert that neutral sentiment to a fully positive perspective on the property — this is low-hanging fruit that tends to be the most ignored. A neutral perspective is showing objectivity and is very likely to be someone who will be a loyal, raving fan if you invest the time to convert them to fully positive. I'm convinced this is a pool of guaranteed renewals waiting to be engaged, and someone at the site level needs to be assigned to ensuring this happens by focusing purely on the neutrals.
And, finally, it's important to establish a team and processes that cover the full range of possibilities when reviews go poorly — those parties include property-level leadership,corporate leadership, including a dedicated reputation management specialist, a professional PR team, and legal counsel. The reputation management specialist should focus on responding to all reviews — positive, neutral, or negative — and they will be the one who determines when the other teams are needed if a negative review has truly "gone off the rails." They should be trained on when to call in PR and legal counsel, when to escalate to a senior corporate leader to implement service guarantees, and how to help property-level staff cope with extreme situations.
Consistent, professional, and effective response to reviews are a must for a successful online reputation score and for generating public trust with your brand.
Bringing it all together
It's no longer true about websites or properties that if you build it, they will come. Your reputation runs ahead of you, and the people are not coming unless they're hearing good things. Establish a reputation management team, find your current place among your competitors, benchmark your current status and target growth, and become an active voice in the conversation about your community. Before long, Google and your potential residents will take notice and come see for themselves all the good things they are hearing about your property.
Reference:
1 The Internet Adventure. J Turner Research. November 2016. https://www.jturnerresearch.com/the-internet-adventure
2 2017 Local Search Ranking Factors. Moz. 2017. https://moz.com/local-search-ranking-factors
3 The Mechanics of Online Review Sites and Internet Listing Services. J Turner Research. June 2017. https://www.jturnerresearch.com/the-mechanics-of-online-review-sites-and-ilss
4 3 Online Reputation Management Strategies Critical to Improving SEO. Reputation.com. March, 8, 2017. https://resources.reputation.com/reputation-com-blog/3-orm-strategies-critical-to-improving-seo
5 Peak Campus Reputation Campaign. Catalyst. March 2017. https://thelyst.com.
6 Ratings Tracker Aggregate Graph. Ratings Tracker. September 2017. https://www.ratingstracker.com/property/aggregate