Report: How Students Search for Housing
You may have a rough idea of where students look before they visit and lease with your community. You theorize that students initially check social networking, Google, and review sites. Perhaps they also talk with friends about their experience with a community. But how much do they weigh a Google search over word of mouth? Do they ignore Google search ads? Are they looking on Facebook for your community? Worst of all, do you have to learn Snapchat?
To help our property management clients better understand how students discover and decide where to lease, we conducted a survey of college students in April 2017. We received over 11,000 responses to the survey regarding the internet search patterns of prospects.
Here's What We Found:
48% of students use online search as their primary source to find an apartment. The second and third most-indicated sources are referrals from friends (28%) and awareness of the area (18%). Only 6% stated a channel other than these as their primary source.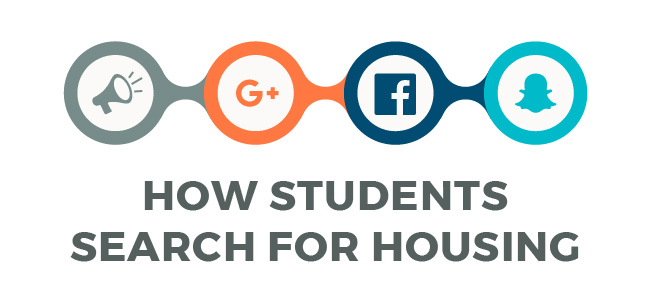 Social Networking Sites
Over 65% of the students surveyed said they frequently use Facebook, Instagram, and Snapchat. However, 73% of them don't use social networks to search for apartments.
The students that do search on social networking sites largely search on Facebook (21%).
Ratings/Reviews
80% indicated that they use online ratings in their search for an apartment complex.
78% reported that ratings and reviews had a strong effect on their decision to visit a property, while 73% indicated ratings and reviews affected their decision to lease an apartment.
75% stated they look at ratings and reviews more than once when deciding on an apartment.
85% use search engines to find ratings and reviews.
Students considered overall star ratings and the content of reviews to be the most important aspects of reviews.
Online Search
Of the search results on the first page of a Google search, students are most likely to click the first organic results and second-most likely to click the first paid result. Percentage of clicks to results other than the first organic and paid results were significantly less.
There was no particular trend in students' choices of results in the organic results other than the top option. This likely indicates that most students pick the top results, but other students prefer to do a comprehensive review of all results and pick the site most suited to their needs.
Survey data collected from students in April 2017.