In early 2017, Campus Advantage took over management of four properties in Baton Rouge, Louisiana. Multiple properties sharing a market can pose a challenge because the same students tour each. Ultimately, the properties compete with each other while also functioning as a team under shared management. Each property needed to fill up to budgeted occupancy regardless of who their competition was.
At Catalyst, we saw this challenge as an opportunity to create or identify unique audiences for each property to set them apart with unique selling propositions as well as to create opportunity for referrals. For example, one property is further from campus and smaller than another, so we targeted upperclassmen and graduate students who typically prefer being out of the party scene and at a smaller community where they can focus on their studies. Alternatively, one property is very large and has individual cottage-style homes that are perfect for people in fraternities or sororities or younger students who want to live with all of their friends.
Additionally, each property had just gone through a complete rebrand (see more about that here), and was about to launch with big parties at their sites. So while having these target audiences in mind was a great first start, we needed to figure out how to get people to find which property — and party — was right for them.
The solution was brilliantly simple — we created a quiz.
There's not a college student around who hasn't heard of BuzzFeed or taken a seemingly pointless quiz to find out which type of pasta they are. So why not take that same mindset, and use it to show them where they should live?
First of all, we needed to drive people to one central site for this quiz. So we created a campaign that had one theme, and the RSVP page had a handful of short and sweet questions for partygoers to answer to find out which party — and community — was best matched with their lifestyle.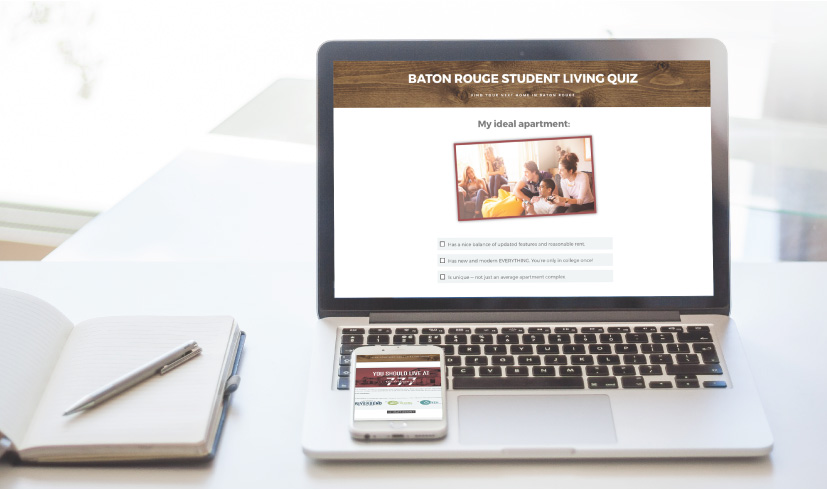 The quiz also had questions about which amenities people most care about. Do upscale, over-the-top amenities like lazy rivers really appeal to students, or are they happy as long as there's a pool? Or do they even care about a pool at all? We wanted to get to the bottom of this, both to help the student choose the right community, but also to know for future reference what amenities we should target in our marketing because they appeal to students most.
The quiz generated 2,675 total clicks, and we've broken down the results below based on highlights, top responses to each question, and comparisons of each response per question.
Highlights 
60% of students preferred to stay someplace quiet and to relax at home.
55% of students preferred staying at home on a typical Friday night instead of going out (26%) or hosting a party (19%).
42% of students chose proximity to campus as their main preference for location, but 33% preferred to be near Baton Rouge hotspots, indicating the importance of both features.
61% of students preferred pet-friendly apartments, whether they had a pet or not, while 39% indicated they didn't have a pet and didn't care about this amenity.
47% of students preferred nice outdoor amenities, significantly higher than relaxing amenities (25%) or upscale amenities (28%).
Top Responses 
These were the top responses to each question by highest percentage of total clicks.
| | |
| --- | --- |
| Question  | Top Answer  |
| My ideal apartment:  | Has a nice balance of updated features and reasonable rent. |
| When it comes to my next apartment:  | I just want someplace quiet and comfortable. |
| I prefer to:  | Relax at home and focus on my work or studies. |
| Regarding location, my apartment:  | Should be close to campus. |
| When it comes to pets, my apartment:  | I don't have a pet, so I don't really care. |
| On a typical Friday night, you are:  | Curling up on the couch to watch your favorite shows on Netflix. |
| I think cool extra amenities would be:  | Nice outdoor features. I want to grill out with friends, play sports outside, and hang out by a pool. |

As you can see, some of the answers were surprising and offer great insight into future acquisitions in the market as well as future marketing efforts. For example, knowing that the majority of students prefer nice outdoor amenities over upscale amenities is useful when it comes to selecting which amenities to highlight. The results also help us to know what kind of property events people may like in the future — surprisingly, most prefer to quiet and relaxation at home, so low-key events may perform better.
Do you hold multiple assets in a shared market? We can help you strategize on how to effectively drive traffic to appropriate assets so they are most likely to lease.