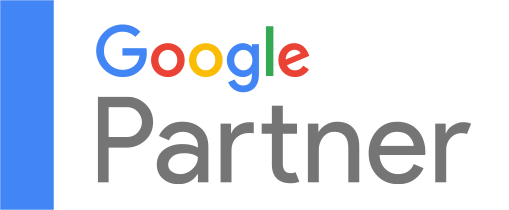 What is a Google Partner?
A company achieving a Google Partner badge status signifies an elite company with multiple employees who are certified in Google AdWords. They continuously meet Google's standards to maintain partner status through sustained growth of client base and participation in ongoing training.
They have proven knowledge of Google AdWords and are dedicated to paid search marketing as well as pay-per-click advertising for a number of clients. They manage Paid Search Ads, Retargeting Ads, Facebook Ads, YouTube Ads and many more options through Search Engine Marketing (SEM), and organic traffic through Search Engine Optimization.
When considering online marketing, remember, not all digital agencies are the same. Be sure to research an agency's qualifications and experience to ensure they are forthcoming about their Google AdWords qualifications, methods of optimizing your campaigns, and backend reporting.
The advantages of working with a Google Partner:
Certification matters
Work with Certified Analysts and Account Managers. These qualified and high achieving employees have certifications with Google AdWords to manage your accounts. Google ensures that they meet ongoing standards for account management best practices. Google certified partners use the most up-to-date practices, and always use white hat procedures.
Access to Masters of AdWords features
Google partners are well-versed in all the features of AdWords and use them in the most profitable way for their clients. This includes mastery of the use of negative keywords, site links inside of ads, ad extensions, phrase match keywords, split testing with AdWords, broad match modified keywords, ad scheduling, and more.
Get a leg up on the competition with Beta features
Partners have access to Google's newest beta features and receive exclusive access to test them before they are available to the general public. Partners provide access to industry research and product updates.
Avoid waiting in line
Partners with a large ad spend have their own Google Agency Team that can be contacted without waiting in line any time a client has an issue. Without this access it could take days to deal with an issue, but problems can be addressed immediately with the support of direct access to a Google Agency Team through a Google Partner – saving time and precious money.
Keep up with PPC (Pay Per Click) Best Practices
In order to maintain Google Partner status, members must take certification exams in AdWords Fundamentals, Search, Display, Shopping, Video, and Mobile Advertising. Partners can attend free training sessions to keep up with the latest PPC practices, so you'll know that the agency is keeping up with PPC strategies as they evolve.
Testing & Innovation
Since Partners need to show they are employing the best practices, they may incorporate split testing on ads to attract the greatest volume of customers, and use multiple ads per campaign group with different keywords and messaging. Google encourages ongoing experimentation by targeting various demographics within your target market.
Assurance of High Level of Service
Partners must maintain the Google Standards to retain partner status, or risk being dropped from the program. Partners work tirelessly to provide the highest level of service. You can be sure they are striving to implement a successful strategy and plan for your business that will help you save time and maximize your return on your online marketing investment.
Source: http://www.amerigreen.com/7-advantages-working-google-partner-companys-online-marketing/