At Catalyst, we've worked on search engine optimization (SEO) for over 40 different properties across several U.S. markets. While each property and market has their own unique SEO strategies, we've been able to narrow down a number of tactics that can have a dramatic effect on keyword rankings in any market. While these tactics may not give you the keyword rankings you want right off the bat, they are essential for any local business that wants to be found in search results.
Secure and verify a Google My Business listing
Google My Business pages (formerly Google+ pages) are the most important aspect of local search optimization. Approximately 80% of our clients' website traffic comes from Google searches, and we find that the majority of these searches display local results.
Not only do Google My Business listings help with local rankings, they also help Google find rich snippet information to add to search results for your business. If you perform a search for "catalyst austin" in our location, you'll see that we have all kinds of information included in the search results. This is the result of a secured, verified, and populated Google My Business page.
If you don't know how to secure a Google My Business listing, follow these three easy steps.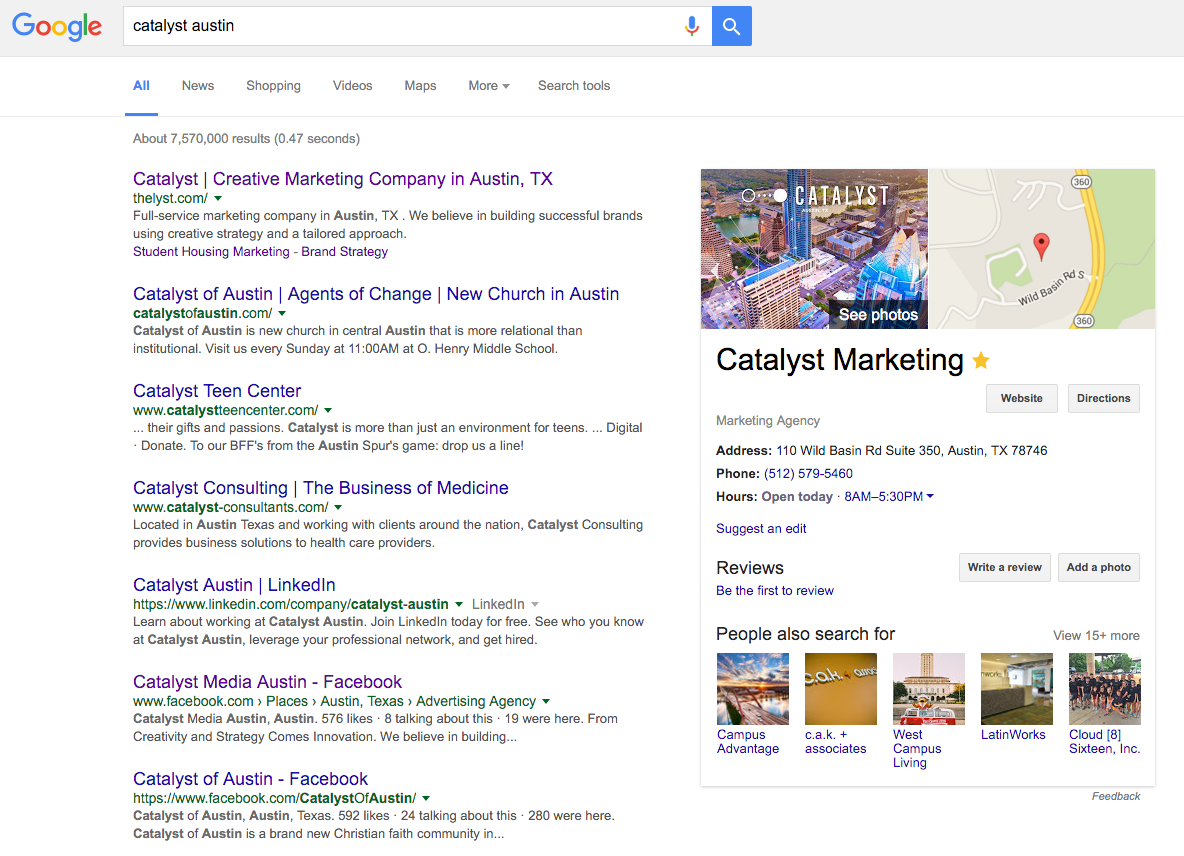 Add a keyword-rich title to your website home page
When looking for the topic of a website, the first place Google will look is the title of your website. I'm not talking about the largest and boldest text on your home page — rather, I'm talking about metadata that Google crawlers will find and use in search results.
Take a look at the search results for Catalyst below. Notice that it doesn't just say "Catalyst". The full title of our home page is "Catalyst | Creative Marketing Company in Austin, TX", which tells Google who we are and what we do.

You don't have to be a web developer to add this to your website. Many content management systems have a way to add titles to a page, but, if you use WordPress, here are some easy steps to set up your title:
In the WordPress dashboard, click "Plugins" in the left navigation.
Click "Add New" at the top and search for the Yoast plugin.
Download and install the plugin called Yoast SEO.
From there, go to your home page under "Pages" in the left navigation.
In the page editor, there will be a new module for Yoast SEO where you will be able to update that title.
Adding keywords to your website's title will tell Google exactly who you are and what you do. To further improve your keyword targeting, add some keywords to the rest of the content on your home page.
Set up Google Analytics tracking
This is not an optimization tactic, but it is essential for informing your efforts when trying to optimize your website or to know how your website is performing. Google Analytics is a free service that can tell you all kinds of information about your website. Most importantly, you'll be able to see where people are coming from and get an idea about what keywords they are searching for.
To set up a free Google Analytics account, go to https://www.google.com/analytics/ and sign in with your Google account. From there, you can set up your website (this may take some help from a developer since you'll need to add the Google Analytics tracking code to your website).
Once you've set up analytics, you'll be able to see all kinds of valuable information about your website, including:
User demographics (like age and gender)
Traffic sources (such as search, referral, and social)
Behavior flow (the path that users take through your website)
And much, much more
Google Analytics may take some getting used to, but it's an essential part of managing your website.
By performing these three tactics, you will:
Help Google locate your business
Give Google information about your business and industry
Begin targeting your site for relevant keyword phrases
Give yourself the potential to learn and develop your website strategies
Wondering how you compare to your competitors in search?