Services: Campaign, Video, Email, Social Media, Traditional Advertising
Client: Campus Advantage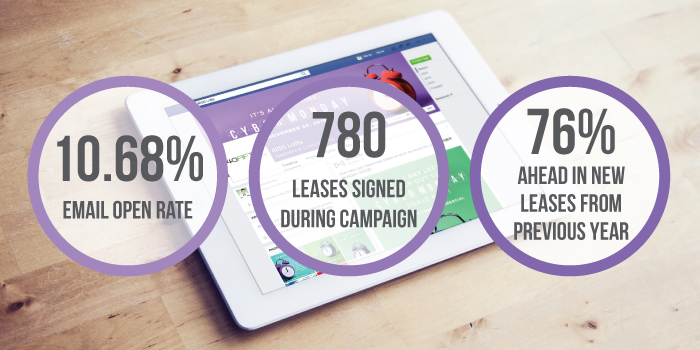 The Challenge
Catalyst was asked to create a Cyber Monday campaign and collateral for Campus Advantage, a student housing owner and operator based in Austin, Texas. This campaign needed to be applicable for more than 30 properties across several U.S. markets. The campaign needed to be inclusive of all properties within the portfolio while being universal enough to be cost effective for each property to buy-in without having to change each piece of collateral.
The Solution
Catalyst filmed a video around a "sit back and relax" theme. With holidays and finals right around the corner, students' lives were already hectic enough without a big sale going on at their apartment complex. To accomplish this, we removed the hectic schedule and instead promoted a day of taking it easy and saving big when you live at a Campus Advantage community. Throughout the video, different swag items from each property were used to tie in every community and allow properties to promote the video with a "have you found our logo" type of game.
The Results
In addition to the video, Catalyst created social media graphics, landing pages, emails, posters, and flyers to allow the property to tease Cyber Monday specials leading up to November 30 (Cyber Monday). Over 172,000 emails were sent to 37,305 unique recipients with an average open rate 10.68% and an average click-through rate of 3.36%. A total of 780 leases were signed over the course of the campaign, leading to an average cost per lease of $44.87 for the portfolio. This left the portfolio 40% ahead in renewed leases from the previous year, and 76% ahead in new leases.
Find Out What We Can Do For You!