In an effort to improve the quality of searches for apartment complexes, Google has added some interesting new features to search results that are going to have a dramatic effect for apartment website traffic.
Change #1: Apartment Comparison Tables and Charts
The biggest change to search results are the new tables and charts that are showing up for a number of different apartment-related keyword phrases. Google has started crawling apartment directories like myapartmentmap.com and extracting a table of the different apartments on that website to display in search results.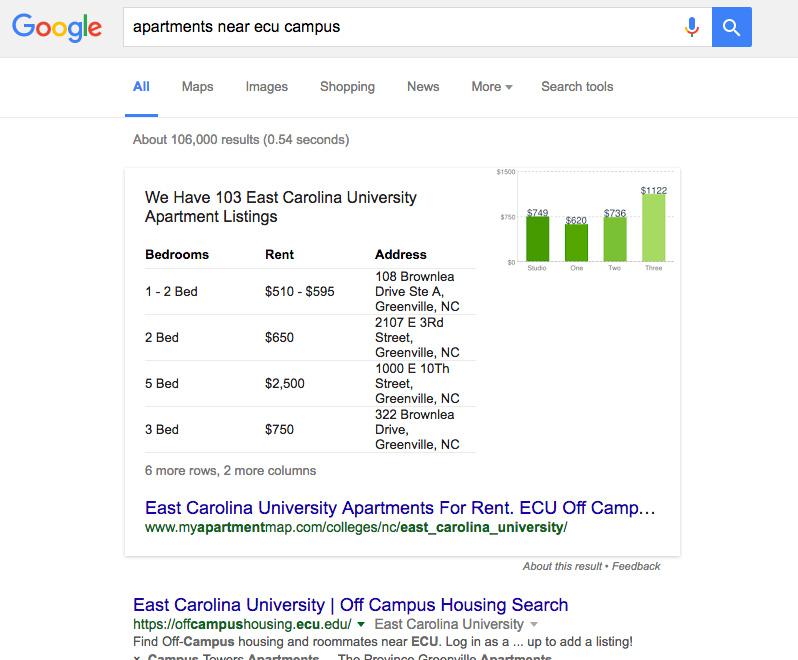 These type of results create a very blatant comparison between apartment complexes. They don't actually show any apartment names — just the number of bedrooms, rent prices, and addresses — but these will still be beneficial for many different apartments.
This feature is particularly beneficial for apartments that have a wide variety of floor plans.
The more floor plans that you have, the higher the chance that you'll show up in these results. Of course, the searcher would still have to find the address before they knew anything about the complex itself. Just be sure that your apartment listings accurately reflect your actual floor plans and rates. This could backfire if a prospect finds your rates in search, but then finds something different on your website.
Change #2: Apartments Added Below Directory Snippets
In addition to the new comparison tables and charts, Google has begun showing individual apartment complexes directly below the snippets for directories like livesomewhere.com. Unlike the comparison tables, these snippets have the exact name of the apartment complex but don't include any specific information on bedrooms, rent, or location.
This means that an apartment could increase brand awareness directly in search results with just an online listing.
In addition, these results usually include a price range that is displayed between the title and description of the page. These don't seem particularly useful if the range is as large as the below screenshot would indicate (from $380 to $1,080), but it definitely gives the user more information directly from the search results.

What is the future for these features?
Google has been testing these results for most of the summer in smaller markets across the U.S., but it appears they have recently been rolled out for nearly all searches looking for apartments near a university. We've also seen these results appearing for search terms related to apartments near other significant landmarks or neighborhoods. You can expect to start seeing more of these features for the same search phrases that show directories like apartmentfinder.com, myapartmentmap.com, or livesomewhere.com.
All of this being said, this update is still in the testing stages as evidenced by this not-very-useful table from a search for "apartments near usf," as you can see below.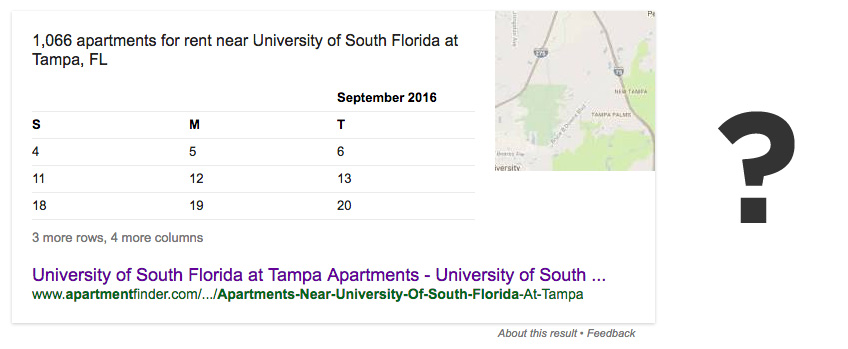 If you can't figure it out (it took me a while), it's just a September calendar.
Sep. 4, 11, and 18 are Sundays
Sep. 5, 12, and 19 are Mondays
Sep. 6, 13, and 20 are Tuesdays
It's likely that Google will continue to expand and improve featured snippets like this for apartment complexes. It's going to be up to the directory websites to update their content to be more crawl-friendly. Make sure you are there when they do!
Looking to improve your search presence?
Contact us to get started with an SEO program today!