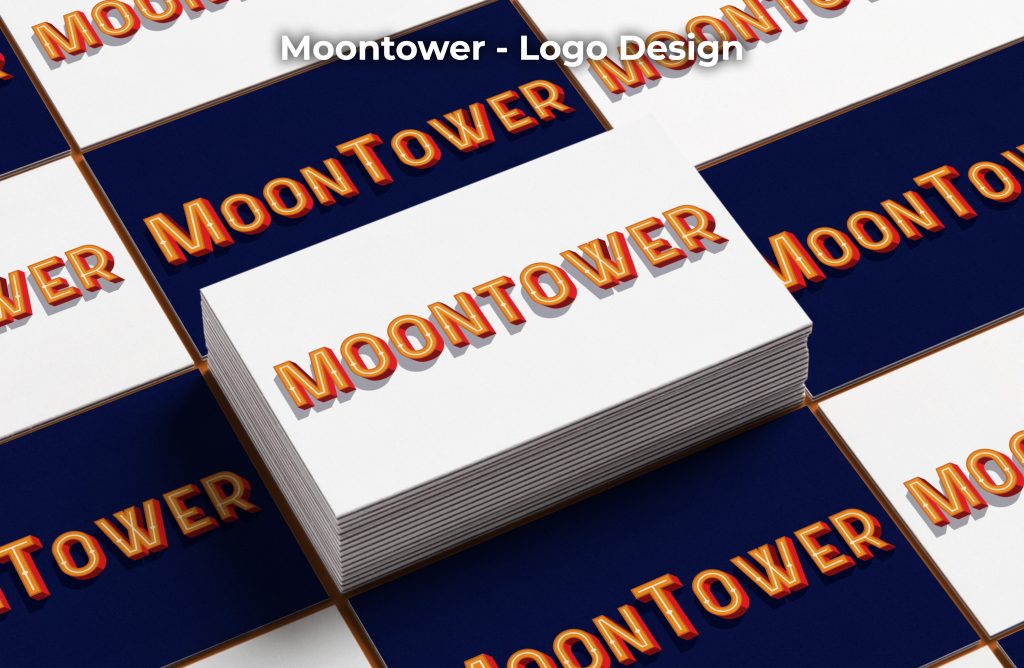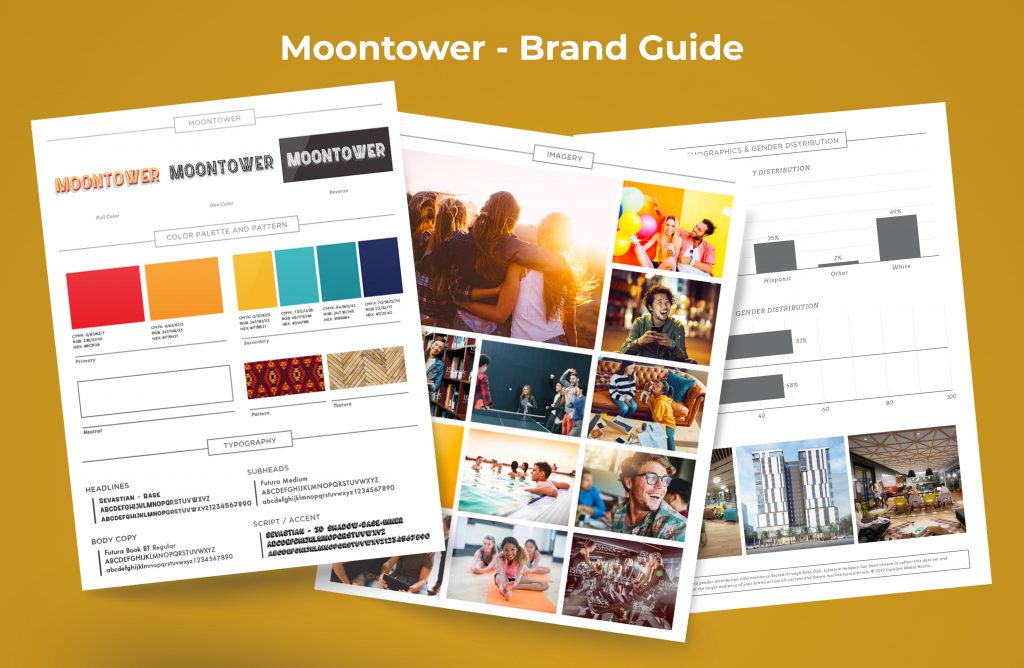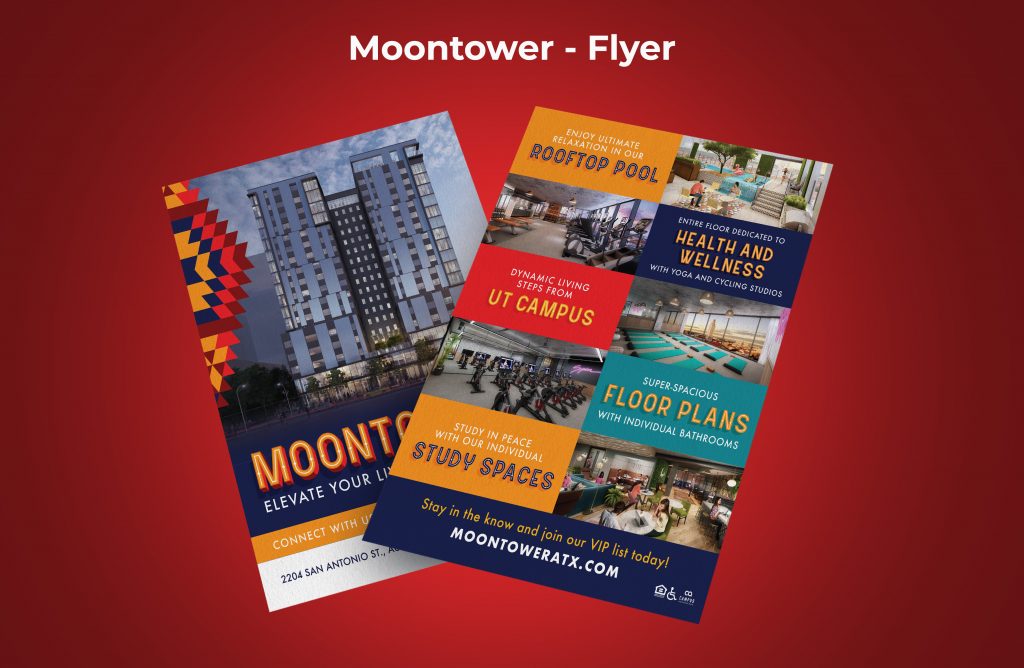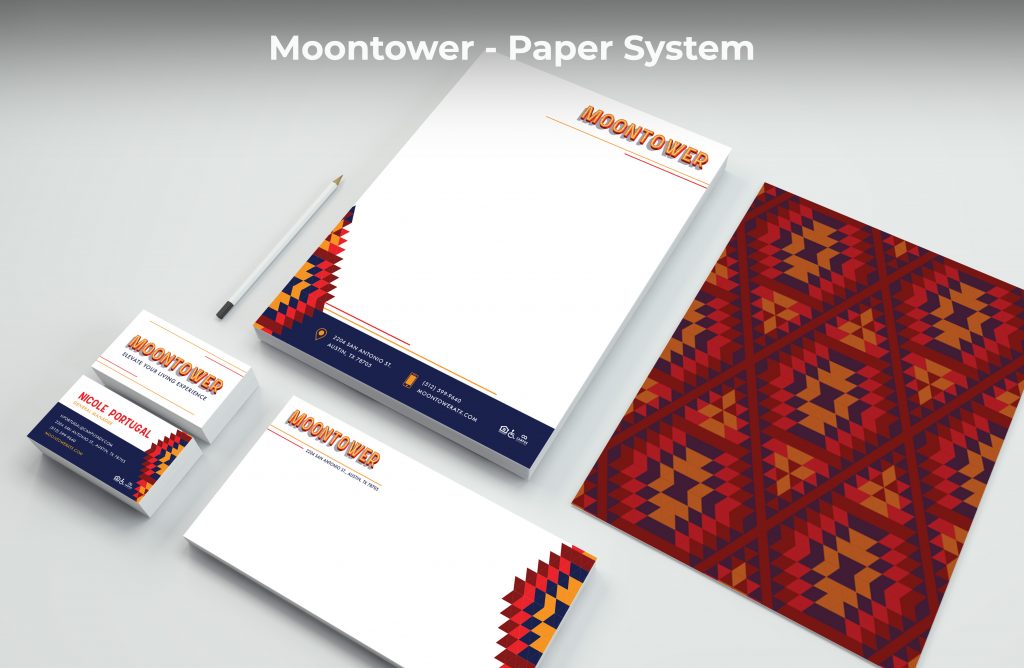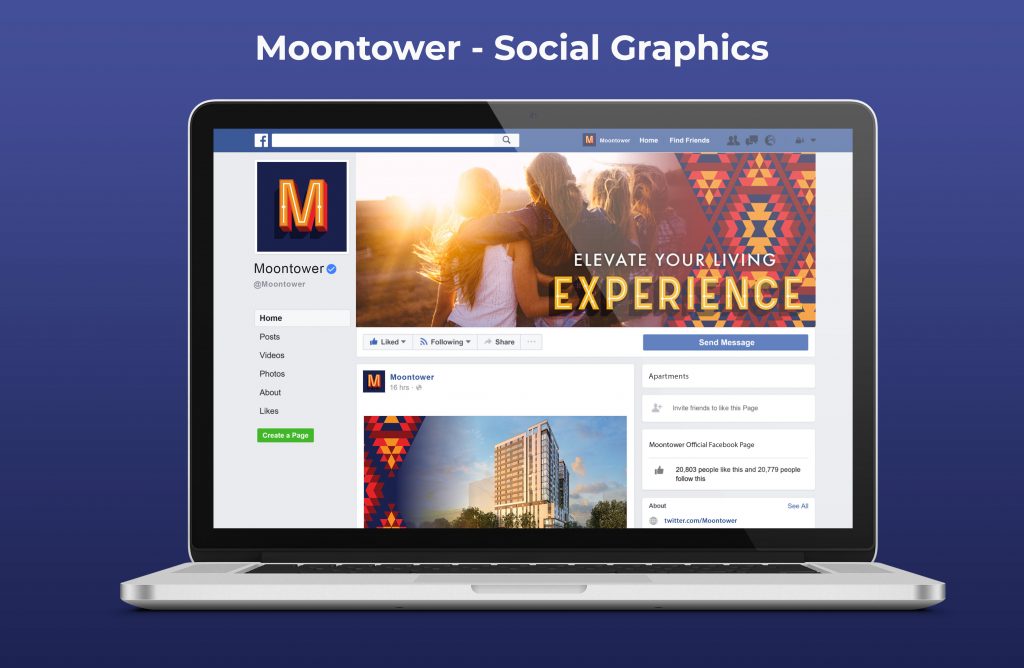 The Challenge
Lincoln Ventures, a real estate investment firm, contracted Catalyst for the branding of their new student housing development — Moontower — opening fall 2020 in West Campus by the University of Texas in Austin. The 18-story high-rise is a 166-unit/567-bed luxury off-campus property set to be dedicated to a more sorority/Greek-life focus with high-end amenities catering to the student lifestyle, including entire floors devoted to fitness, wellness, and studying. 
The client request was for branding that stood out as bright and bold with edgy verbiage for student appeal. Catalyst developed the branding before moving on to the development and execution of collateral such as a brand guide, paper system, flyer, and social graphic.
Because Austin and UT are known as a very early market, it was necessary to get the Moontower name out in the public as soon as possible to catch the interest of students looking for 2020 housing. Therefore, while the custom website was being developed, Moontower needed a temporary website to serve as an informational hub for the property and to collect VIP leads from interested students.
The Solution
Catalyst developed a one-page temporary website that included brand imagery, renderings, amenity descriptions, and contact information — everything a prospective resident might be interested in to make a housing decision.
Large, high-quality property renderings gave visitors a good sense of what the future unit and amenity spaces would look like, while the verbiage created an appealing invitation to be a part of the Moontower experience — "a stellar lifestyle, panoramic city views, five-star social vibes, class-A amenities, sleek floor plans, and an energetic atmosphere."
Branding was interwoven throughout the temporary website, such as large patterns, colored sections, and typography. In addition, the site also featured a VIP form designed to collect leads and keep prospects updated on construction progress, news and events, leasing specials, and more.
The Results
The temporary website was launched on April 29, 2019, which created a strong first impression for visitors, as well created a means to begin securing leads and prospect info for the early leasing market. By launching a temporary site, it helped set the brand up for success and make the transition to the full, custom site much more seamless. Data gathered from the temporary website on June 5, 2019 included the following:
Drove 2,366 unique users to the website
Bounce rate: 34.09%
Avg. session duration: 2:18
Drove 118 form submissions from users with a 3.94% form conversion rate
Drove 663 Apply Now clicks with a conversion rate of 22.14%
As of November 14, 2019, Moontower was preleased to 89.2%.