Online videos are one of the best ways to stand out on social media and engage with your followers.
We live in a visual world where video content is king. YouTube is one of the most popular websites on the internet, with over 1 billion users generating billions of views every month. Other social networks, like Facebook, Twitter, Instagram, and Snapchat, continue to release new ways to create and share video content online.
For apartment communities, using video can have a huge impact on social media engagement and the quality of their online presence as a whole. So we've put together three easy video ideas that apartment communities can do to improve their social media posts.
1. Create Multi-Clip Videos with Snapchat
Snapchat is a great video platform on its own. But did you know you can use it to save multi-clip videos and post them on other platforms? It's really easy to do and only takes about five minutes.
First, film about 5–10 videos of your residents or staff doing something fun at your property and add them to your Story. This is best to do on a property Snapchat account if you have one, but if not, it's just as easy do it on your personal account and delete the Stories later.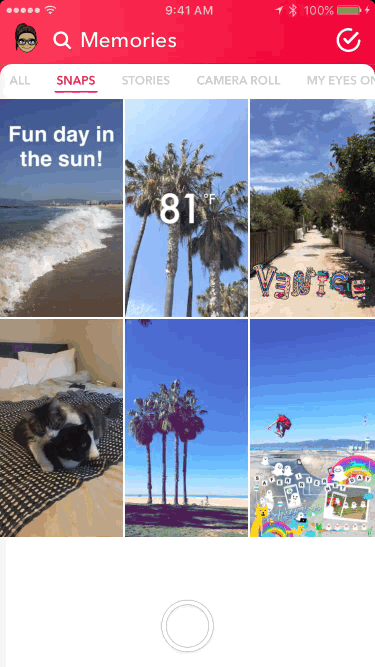 After you have some videos on your Story, be sure to take a look at the whole thing and delete any clips that you don't want in your final video.
Then, save your Story to Snapchat Memories by clicking the down arrow next to it. To download your video file so that you can use it on other social networks, just go to Memories, hold your finger down on the video, click "Export Story," and then "Save Video."
Now you have a multi-clip video that you can easily upload to Facebook, Instagram, Twitter, or any other social network.
2. Stream Live Video on Your Facebook Page
Facebook released its new video-streaming service, Facebook Live, in April 2016, and it's become one of their most popular kinds of posts. In fact, Facebook said that "people comment more than 10 times more on Facebook Live videos than on regular videos."
Facebook Live used to only be available to personal accounts and high-profile pages, such as celebrities or news outlets. But now, you can use it on your property's Facebook page to promote your residents and events in real time. And it only takes a few minutes to set up.
Creating Facebook Live videos on desktop is simple and takes little time. Simply go to your page and click the "Live Video" button on the status field. However, unless you want to carry your computer around, this does not let you film live video at a specific location.

To create a Facebook Live video on your property page from your mobile phone, you'll first need to download the Facebook Pages Manager app on your iPhone or Android. After you've downloaded it, sign in to an account that has administrative access to your property's page so that you'll have access to the features for that page.
Once you've signed in, you should see your Facebook page on the screen. To start a live video on your page, simply click the "Live" button in the options below your cover photo. This will immediately open up your phone's camera and give you the option to "Go Live" whenever you're ready.
3. Buy a Drone
Snapchat Stories and Facebook Live are really easy ways to create unique videos for your social media. But if you really want to take your video content to new heights, go out and buy a drone for your property.
Drones vary widely in price — anywhere from $50 to $30,000. So take some time to shop around and find the drone that fits your property's budget.
Whether you buy something that's top of the line or just the most basic version, drones are extremely fun to use, and they create tons of possibilities for making quick and awesome property videos that will really impress your followers.
Conclusion
So if you're looking to take your videos to the next level, you can easily use Snapchat Stories, Facebook Live, and drones to help you stand out and drive more engagement on your social media.