Create lasting connections with your audience with powerful, personalized emails. Prove the value of every campaign you send, and deploy winning emails, even when time is short and resources are limited. Better email marketing is simple and easy with Catalyst.
Act-On is an agency-grade automated marketing platform. We're opening up the email marketing portion of this platform so you can reach your customers and prospects with a powerful tool that integrates the results from Catalyst-driven campaigns with results from the emails you send everyday for a combined view into marketing efforts. Similar to Constant Contact or MailChimp, the platform is simple to use, and you'll be up and running in no time!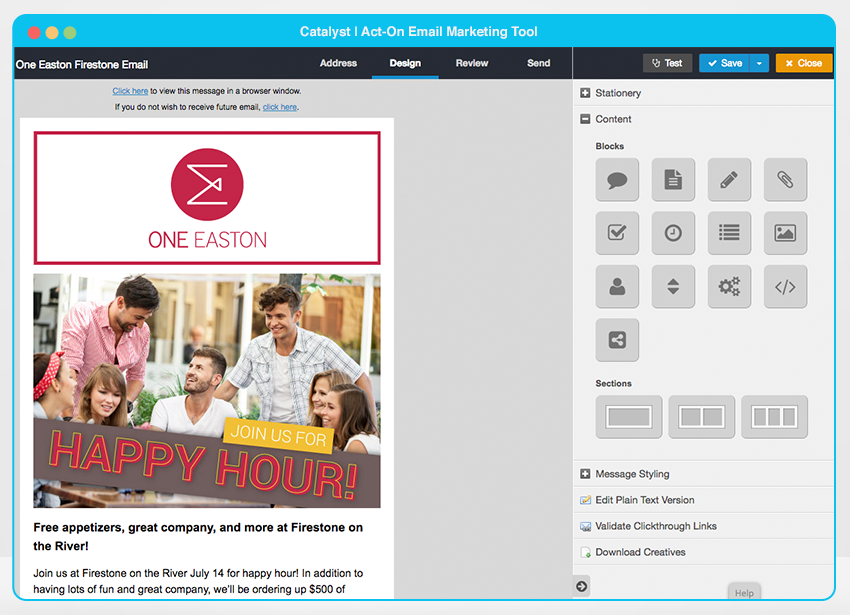 Drag and Drop Editor
Easily add text boxes, images, and buttons around using the simple drag and drop editor.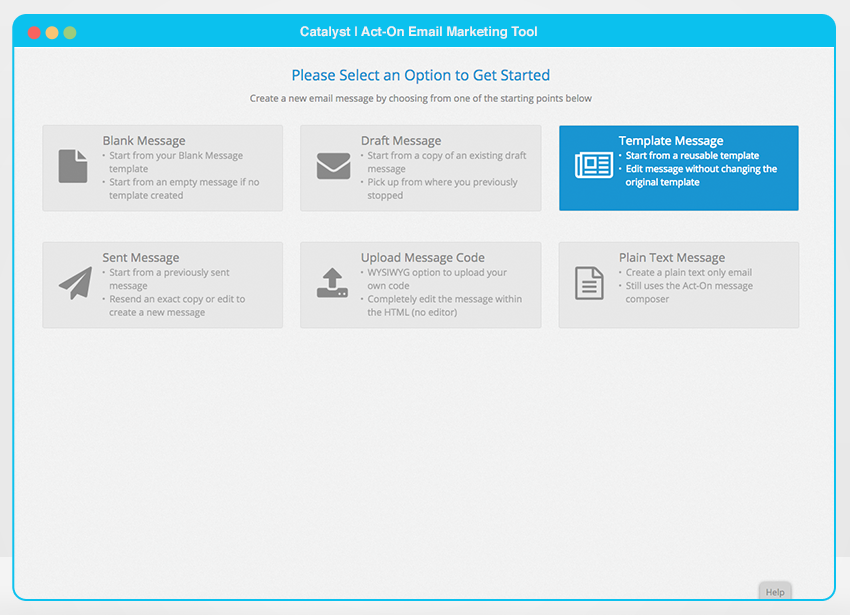 Email Templates
No need to start from scratch as we have created branded templates for you to use.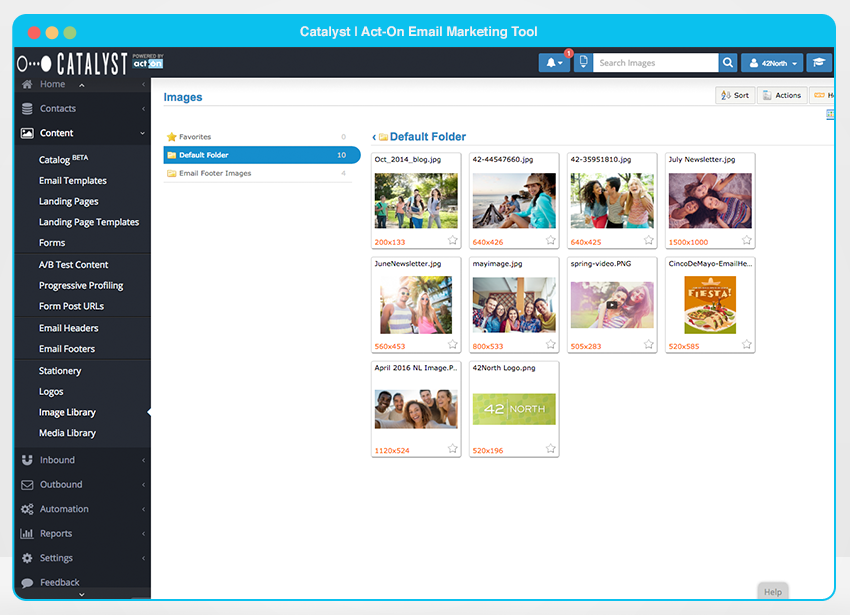 Image Gallery
Choose from previous images, or provided lifestyle imagery when building your emails.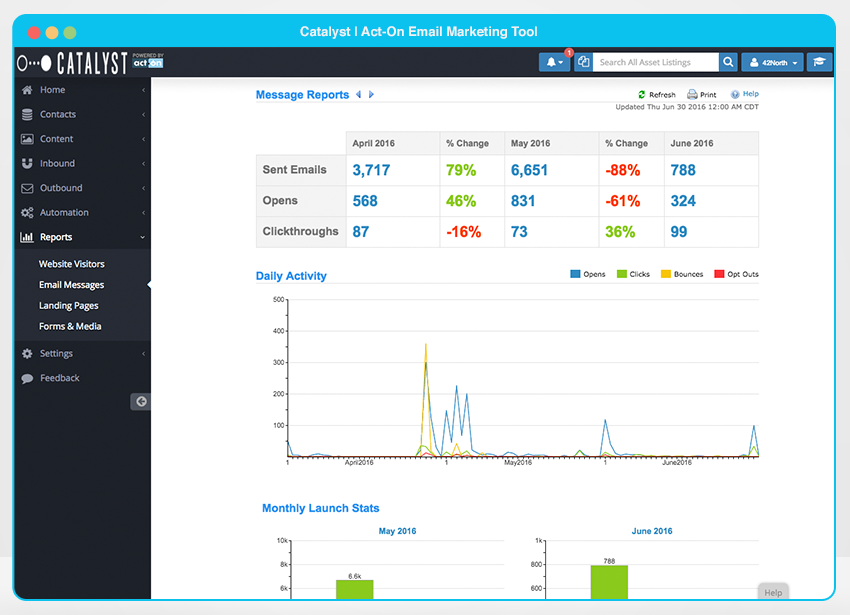 Real-time Reporting
Take a look at real-time reporting on all of your email campaigns.
It's easy to get started:
1. Sign up for an account   2. Watch the Video   3. Log in and start marketing!
Key Benefits of Using Act-On:
Unified Reporting

 

— All of your marketing data will now be in the same place. The quarterly reports Catalyst provides to you and your stakeholders will include not only results from Catalyst-designed emails and other digital services, but also reporting on emails that

 

you send

 

to your residents and prospects, providing greater insight that will boost your ROI.
Precision Lead Targeting and Tracking

 

— You'll be able to see who has and hasn't opened your emails, and resend emails just to those who haven't opened.
Branded Templates

 

— Your property's account is pre-populated with customized, branded templates so that your email communication will carry your brand's personality and professionalism in each and every email.
Customizable, Device-Ready Content

 

— While you'll have a template to start from, you'll also be able to add images and create your own content, and it will look great on all devices. Images from your brand sheet will be preloaded into your account, and you will have access to graphics from previous Catalyst-designed email campaigns.
List Cleansing and Validation Services

 

— "Deliverability" is the term used to discuss the percentage of emails that actually make it into the inboxes of your intended recipients. List cleansing and validation services will help you make sure your email is going to reach your recipients. Because email providers are increasingly tightening the scope of what will be deemed as deliverable, and because we want to protect your email reputation score, Catalyst will receive and upload lists on your behalf, and require list cleansing* and recommend list validation** for lists containing 20,000 contacts or more.
* List cleansing (required for lists 20K+) rates are a one-time fee per list and vary based on list size. View rates & learn more.
** List validation (recommended for lists 20K+) rates are a one-time fee per list and vary based on list size. View rates.
Pricing:
$149/month
+ One-time $345 Setup Fee
One simple, all-inclusive monthly rate provides access to Act-On, the freedom to create and send unlimited emails, access to all features mentioned above, and quarterly reporting on all account activity. The setup fee includes account setup, logins provision, all previous email graphics developed by Catalyst as well as lifestyle images from your property brand sheet pre-loaded into the account.
Compare Act-On to MailChimp and Constant Contact:
| | | | |
| --- | --- | --- | --- |
| | Act-On | Mailchimp | Constant Contact |
| Customizable Email Templates | Yes | Yes | Yes |
| Drag and Drop Editor | Yes | Yes | Yes |
| A/B Split Testing | Yes | Yes | No |
| Web Activity Tracking | Yes | Yes | No |
| Landing Pages | Yes | No | No |
| Lead Capture Forms | Yes | No | No |
| Lead Scoring | Yes | No | No |
| Bulk Social Media Posting | Yes | No | No |
| Competitor Social Analysis | Yes | No | No |
Ready to get started with Act-On?
1. Sign up for
an account
2. Watch the
training video.
3. Log in and
start marketing!
We'll send you login details within one business day of signing up.
VIEW COMPLIANCE AGREEMENT
Catalyst clients making use of the Act-On platform agree to comply with all applicable laws and industry best practices, in connection with their use of the Offerings, including the list cleansing policy for lists over 20,000 contacts, consent requirements pertaining to transmitting email and other communications, and compliance with the laws outlined below.
Domestic National Compliance.

 

Client agrees to adhere to the sender requirements and obligations under the

 

CAN-SPAM Act of 2003

 

and any successor thereto. Additionally, Client must abide by the Telephone Consumer Protection Act (TCPA) as it pertains to Client's marketing and prospecting using the Offerings. This law says that all email must meet a number of criteria:

The sender must provide accurate routing information about the emails.
The advertising emails must be clearly labeled as advertisements.
Recipients must be allowed to opt out of emails. Opt-out mechanisms can be either electronic or postal (a P.O. Box is allowed). You are not allowed to require more than the recipient's email address and their choice to opt out. This means that companies may not require passwords or other information in order to process the opt-out.
All emails must contain the physical address of the sender (a P.O. Box is acceptable).
Note that CAN-SPAM does not require that senders have permission to send mail; permission is not a requirement under U.S. law. In other countries, however, senders must have permission to send marketing and commercial email. In some cases, permission cannot be shared or sold; thus, even purchasing opt-in lists is illegal.
Sending mail without permission to recipients in jurisdictions with opt-in rules such as Europe or Canada may open up the sender to legal liability. Some senders have attempted to bypass this by segmenting lists by country, but segmentation assumes that the companies selling lists are correctly compiling the data. Obtaining recipient permission before sending protects the sender from inadvertently violating opt-in laws.
CAN-SPAM applies to all commercial messages, which the law defines as "any electronic mail message the primary purpose of which is the commercial advertisement or promotion of a commercial product or service," including email that promotes content on commercial websites.
Each separate email in violation of the CAN-SPAM Act is subject to penalties of up to $16,000.

State Laws. Client also agrees to abide by any existing state laws regarding transmission of electronic communications including, but not limited to, those that specifically address sending email to minors.
International Compliance.

 

Client agrees that sending email(s) to international countries will require it to abide by and comply with the "destination country" laws and other compliance requirements for commercial electronic transmissions. For purposes of clarity, Catalyst expects Client to agree to the laws of the countries where the recipients of its transmissions are located when such transmissions are received.
Content (Line of Business) Performance Acknowledgement; Role-Based Email.

 

Client acknowledges that certain forms of email content can cause deliverability issues, and Client is entirely responsible for managing its email content. Without limitation and by way of example only, messaging with content containing products and services that are illegal for minors to purchase have been known to be high in performance-related issues. Client may not use the Offerings to send emails to role-based email addresses. An example of a role-based email address would be

 

[email protected]

 

or

 

[email protected]

 

Basically any email that is not an individual would fall within the above parameters.
Volume Management.

 

In order to proactively manage a frequency reputation, a volume cap of 10 emails per contact per month will be enforced on an account basis.
List Procurement. Sending unsolicited commercial email (UCE, or spam) through the Act-On service is strictly prohibited. Any customer that uses UCE/spam in their marketing efforts is subject to immediate termination and will be prosecuted to the fullest extent of the law. Client may not access or otherwise use third-party mailing lists in connection with preparing or distributing unsolicited email to any third party.
LIST CLEANSING RATES
List cleansing is one of the most proactive steps a marketer can take to ensure high deliverability and maintain a greater sending reputation. Conducting a list cleanse will help you understand the riskiness of your list by identifying spam traps, role based addresses, emails known to complain to blacklist providers, emails on the Do Not Email list, misconfigured addresses and or domains, known threats, managed anti-spam network domains and more, while providing a full report and consultation of the results.
Required for lists of 20,000 contacts or more.
| | |
| --- | --- |
| Number of Contacts | One-time Price per List |
| 100,000 | $234 |
| 250,000 | $410 |
| 500,000 | $646 |
| 1,000,000 | $940 |
| 1,500,000 | $1,528 |
| 2,000,000 | $1,822 |
| 2,500,000 | $2,116 |
| 3,000,000 | $2,411 |
| >3,000,000 | Request a Quote |
LIST VALIDATION RATES
Validating email addresses will help you maximize your email marketing campaign results by enhancing your deliverability and your online reputation.
Recommended but not required for lists of 20,000 contacts or more.
| | |
| --- | --- |
| Number of Contacts | One-time Price per List |
| 10,000 | $234 |
| 25,000 | $410 |
| 50,000 | $705 |
| 75,000 | $999 |
| 100,000 | $1,234 |
| 250,000 | $2,411 |
| 500,000 | $3,587 |
| 750,000 | $4,764 |
| 1,000,000 | $5,940 |
| >1,000,000 | Request a Quote |